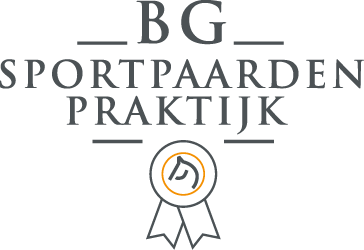 Welcome to BG Sportpaardenpraktijk
BG Sportpaardenpraktijk focuses on improving performance and preventing injuries.
No matter what level or discipline, we want our customers to be able to fully focus on their sport, in harmony with an optimally moving and fit sport horse. Just as it is meant to be.
BG sportpaardenpraktijk
Improving Equine Performance
What?
Improving performance •
support and coaching •
injury prevention •
motion analysis •
treatment of motion problems •
improvement of fitness and welfare •
more sport enjoyment •
How?
• Company visits
• preventive checks
• maintenance treatments
• multidisciplinary approach
• customized therapy for you and your horse
• certified knowledge and experience
• a listening ear and involvement
"Fit is not a destination, it's a way of life"
Each rider /owner will recognize it, the feeling that something is not right, but not knowing what it is.
The problem is not visible yet, but your sport horse is not in optimum condition and is not moving as it should be. Your horse is - as we call it at BG - in the grey area. This is accompanied by reduced performance. It is clear that the horse has troubles with what is currently required, which can ultimately lead to injuries. Perhaps the bar is set too high, or your horse lacks natural ability. Often there is a physical limitation that can be treated. Once the horse can use its body optimally and with confidence again, these problems are solved.
If you are active in sports, it is important that you can rely on your horse being able to handle the requested performance adequately. Through our method of regular check-ups and treatments one can quickly notice if your sport horse is in the before-mentioned grey area. Treatment and control is focused on optimally maintaining factors such as flexibility, strength, condition and coordination. As a consequence, injuries and loss of performance will be prevented. Our guidance is therefore worthwhile for both professionals as well as amateurs.
Hindquarters, no weight at
Touching the fence, one leg
Bending (neck and body) difficult
Sitting trot, difficulties
Straightness, difficulties
Tongue, over bit/dripping
Extented trot, transition into canter
Hindquarters, not under the body
Shoulder, limited movement
Cantor problems, cross-cantor, landing in wrong lead
Behaviour problems, tail-swishing, bucking
Side steps, difference between left and right
Halt problems, not square
Mare fertility problems, irregular, no fertility
SPORTHORSES
When:
From the basic up to the TOP level
Why:
Training means setting the bar higher little by little. We want to make progress, not stand still or go backwards. For this reason BG offers appropriate guidance to both rider and horse. We provide feedback on how your horse responds to the training program and we use this feedback to fine tune the training scheme.
Advantages:
• Easily raising the bar with the proper guidance
• Preventing injuries and overload through regular check-ups and quickly resolving incipient problems.
• A better understanding of and cooperation with the sportshorse.
SHOW AND BREEDING HORSES
When:
In the months leading up to the show and/or inspection?
Why:
To make sure that the muscles are in an optimum condition and the horse doesn´t experience any discomfort. This way the horse can move and jump with strength, flexibility and good coordination, and show its real potential.
Advantages:
• Be able to present the horse in an optimum condition and let it peak at the right moment.
• our findings will give you a view of the horse´s capacities as well as the most appropriate training program.
• The treatment prevents injuries and gives the horse a better body control.
YOUNG HORSES
When:
young horses to be checked before they get broken.
Why:
Many problems arise during the rearing period. A kick, a fight or slipping out can easily lead to problems. In particular the not clearly visible damage to the young horse is treacherous.
We start to train the horse and run into sensitivity, resistance or movement restrictions.
Voordeel:
• it prevents the young horse from overloading and the development of injuries.
• problems are often still minor and relatively quick to fix
• the young horse will be more cooperative and easier to work with
Our treatments work performance-enhancing and reduce the risk of injuries. Flexibility, coordination and strength will improve. The horse's range of motion will increase noticeably, as well as being more powerful and smoother. Its attitude will get better. It's a challenge to BG to guide combinations and stables and together making a difference in competitions.
When is guidance and treatment recommended?
Sport horse & Performance

BG thinks along with its customers in all aspects. It is for this reason that BG offers different packages of services. Together we can determine what suits best for you and your horse.



NOW VISIT
Suitable for: pension-, private-and sports stables with a minimum of 8 horses.
What does it entail?
Hands-on check-ups of the horses. We will be visiting your stable on a predetermined hour and day to check on the horses and answer your questions. Treatment, if necessary, will be scheduled or carried out immediately.
Your advantage:
• gain more insight into the optimum training load
• continuous inspection of sensitivity to injury and feedback
• treatment can be carried out immediately when needed
• fixed periodic checks
• no traveling needed with your horses
• low expense per horse
SPORT MAINTENANCE
Suitable for: each sport horse
What does it entail?
Your horse will be treated on a regular basis. The frequency of the treatments depends on the horse´s level and discipline.
The goal is to prevent injuries and inconvenience. Sometimes the latter seems insignificant, but it can work against the horse and rider without you being aware of it. Through regular treatments, training progress will improve significantly.
Your advantage:
• gain more insight into optimum training loads
• injury prevention
• a fit and flexible horse all year round
• at your own location or at our practice in Chaam
• possibility of attractively priced group maintenance
TREATMENT OF SPECIFIC PROBLEM
Suitable for:elk sportpaard
What does it entail?
Are you dealing with a specific problem, then we will gladly help you to find the right solution. You can contact us for an opinion and treatment. For each horse, an appropriate treatment schedule shall be prepared in which various techniques and therapies can be used.
Your advantage:
• Multi-disciplinary and quick tackling of the problem
• treatment schedule and insight into an optimum training load
• maintenance advice and injury prevention
• at your own location or at our practice in Chaam
For more information about the people behind BC Sportpaardenpraktijk, click on the pictures.
Besides keeping your horses moving, the team itself is also continuously on the move to improve. Within BG sportpaardenpraktijk you can be confident that you are dealing with motion experts, with extensive experience in treating sport horses up to the highest level.
The BG Team is versatile and uses the following techniques and therapies:
• Jack Meagher Sports Massage
• Osteopathy
• Chiropractic
• Masterson Method
• Fascial integration
• Natural Health Care
Depending on the nature of the problem, the correct therapy will be used. The horse´s interest is key, not the therapy.
COOPERATING SPECIALISTS:
Cees van Beckhoven (heart rate measurements)
Sanne Beijerman (sports psychologist)
Annette v Weezel Errens (Vet, nutritionist, doping specialist)
BG Sportpaardenpraktijk
Improving Equine Performance
info@sportpaardenpraktijk.nl
Practice location : Chaam, Noord-Brabant
Working area: Netherlands, Belgium and Germany
It's a pleasure helping you
You can reach us by phone:
+31 6 47 316 702 (Melissa)
+31 6 252 252 40 (Monique)
Willigendael Communicatie & Creatie ©